Digital Paging and Wireless Messaging Solutions
SONIK Messaging Systems is the only company in the US that manufactures radio paging infrastructure products AND also provides turnkey, integrated paging systems.

Paging is our main focus. SONIK manufactures the best digital paging transmitter available today, the PTX-150, which is an all-digital VHF paging transmitter capable of any and all digital paging protocols, including high-speed FLEX and ReFLEX protocols. We also offer custom base stations for VHF, UHF, or 900MHz, for either voice or digital paging as our WMBS line of base stations.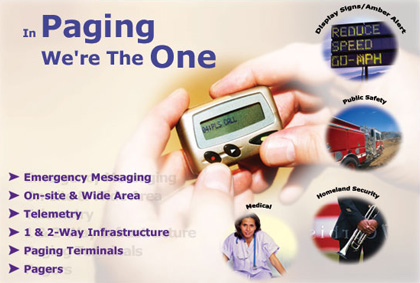 Any other paging products required, contact us! We can supply you with any product related to paging, including PageLinks paging data receivers, LED signs, paging monitors, paging terminals, message gateways, system controllers, antenna's, coax cable, complete antenna systems, mobile data receivers, and PC paging software, as examples.
We are experts in all facets of a paging system, from the details, advantages and disadvantages of each paging protocol, to the fine tuning associated with simulcast systems, to guaranteeing RF coverage. Whether you require just upgrade or replacement equipment for legacy systems, integrated base stations, or complete paging systems, SONIK Messaging Systems is the best company to work with. We can help you with the most competitive pricing available.