About SONIK Messaging Systems:
SONIK Messaging Systems has a rich history in paging going back more than 20 years. Paging is currently the most cost-effective, practical, technology available, to send emergency notifications to large numbers of people, in the least amount of time.
SONIK management understands that the most practical and most cost-effective way to notify large groups of personnel about an emergency or disaster situation, is through the use of paging. There is no other system available today, that can match the speed, efficiency and cost-effectiveness of a paging system, to provide emergency notification to large numbers of people, and to do it in a timely manner.
Recent disasters here in the US, have highlighted the benefits of paging and the problems with cell phones. Hurricane Irene, recent flooding throughout the United States, tornadoes in the Midwest and the Southeast, as well as the earthquake that hit the Northeast, all resulted in the cellular systems becoming overloaded with cell phone traffic and useless to anyone trying to communicate via cell phone. This is because the cell phone company's do not design their systems for worst case scenarios, but rather for average, expected, daily usage. When more than the average number of cell phones try to access the system, it becomes overloaded and unavailable to most everyone that needs it.
Our paging systems, like most public safety communications systems, are designed to accommodate the worst case scenario and to guarantee throughput under these worst case conditions. This is why, time and again, paging systems continue to operate as they should, even under abnormal situations and why paging should be considered for urgent, important communications. Everyone knows that the most urgent communications requirements occur during emergency situations like described above.
Before you consider transitioning from old, paging technology, to new cell phones, please consider the impact this will have on your operations, if or when, a major disaster occurs in your area. Can you continue to operate and do the things you need to do, if the cell phones you typically use every day, are no longer able to communicate at all, when you really need them?
With this in mind, we acquired the paging products division of CalAmp in 2005. Formerly Vytek and Sonik Technologies before that, SONIK Messaging Systems has acquired some of the best products ever available for paging.
SONIK has a rich history in the paging industry, including new product development. SONIK co-developed the RF Audience II ReFLEX Receiver, with MobileComm, an Arch Wireless company, and Motorola's Paging Infrastructure Division. Extensive performance tests were conducted by Motorola, resulting in the most sensitive ReFLEX25 receiver ever offered. This receiver was used extensively throughout Arch Wireless' nationwide ReFLEX, 2-way, paging network.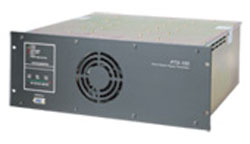 PTX-150 All-Digital Paging Transmitter
Our PTX-150, all-digital paging transmitter is recognized throughout the world as one of the most advanced, feature-rich digital paging transmitters available today. With advanced features like Windows-based, real-time, remote diagnostics software, 16 channels, and on-the-fly switching of multiple paging protocols, including high-speed FLEX, ReFLEX, and POCSAG, no other paging transmitter comes close. .Federal military bases, hospitals, police and fire depts., and utilities around the world have been using the PTX-150 for a wide variety of applications, where high-speed paging protocols and where excellent frequency stability for simulcast systems are required.
SONIK also developed a paging data receiver, the PageLink, which was used extensively by Toro, for one-way telemetry, to receive paging commands for their campus sprinkler systems, used in golf courses throughout the United States today. These receivers are also used for Load Management Control to remotely turn electrical devices, machines, etc., on and off. They are also used to send data messages to remote LED signs. One popular use is for State-wide Lottery signs, as a single message can be sent to thousands of signs, using one group code, for all signs.
SONIK developed a custom base station for Motorola's nationwide, public safety communications project in The Netherlands. The G2N, Generation 2 Nucleus Base Station, was implemented at over 400 sites throughout the country.
SONIK also developed a custom base station for SkyTel, the G2BT, offering 4 900MHz channels and 500 watts, with linear PA's. SONIK engineers have developed a number of other custom products for such companies as EF Johnson, Trimble, SAIC, Motorola, SkyTel and others.
Today, SONIK is focused on paging products and providing turnkey, integrated radio paging systems. No other company has the depth of product and protocol knowledge, combined with systems integration expertise. Our turnkey solutions include all the necessary services required for a successful system implementation:
System Design
Propagation Analysis and Coverage Guarantees
Throughput Analysis and Guarantees
Installation
System Integration
Project Management
Acceptance Testing
RF Coverage Testing
User, Supervisor and Technical Training
System and Product Documentation
Ongoing Maintenance
Please contact us if you require any products related to paging or if you require analysis or upgrade for your existing paging system. SONIK engineers have worked with some of the leading land mobile communications providers to assist them with analysis of existing paging systems, with coverage, throughput, or simulcast problems. Once the analysis is complete, SONIK can also implement any agreed upon upgrades, to provide you with the capabilities you need and expect from your paging system.
Are you looking to purchase a new paging system? Call us for a free budgetary analysis and quotation. We can provide you with a budgetary proposal, outlining the basic system design and required components, with system budgetary pricing that you can use to establish your budget requirements.
SONIK Management:

Our President, Ron Weber, was formerly the VP of Operations for both CalAmp and Vytek and was directly involved in the sales and project management of the largest projects ever undertaken by both companies. Ron is experienced in custom product design, development and manufacturing and can work with you to bring any rf related concept to reality. As the paging products manager for Motorola, Ron was involved in many of the largest paging systems projects, ever installed anywhere in the world. Ron is familiar with the Glenayre product line, having also spent several years with Glenayre's management team, solidifying his paging products and paging systems experience. Ron brings a wealth of experience and paging knowledge to SONIK, that helps us move paging into the future.
Our Engineering Director, William Weber, has over 30 years of paging product and paging systems experience. While working for Arch Wireless, Bill was involved in the design, installation, integration and maintenance of their one-way and two-way paging systems. While with Vytek and CalAmp, Bill was involved in the development of many custom paging base station projects. Bill has a deep understanding of paging protocols, all major components of a paging system, and the operation and maintenance of paging systems of all sizes. Bill has been here for Sonik Technologies, Vytek, and CalAmp and now he brings his deep knowledge of paging systems to SONIK Messaging Systems and our current customers.
Our Vice President, Paul Lubsen, has been involved in wireless communications sales & marketing for over 30 years. His career in wireless communications began selling 2-way land mobile systems, dispatch consoles, paging systems, and mobile data systems for Motorola's State and Local Government Division in Los Angeles. Paul also spent several years as Western Regional Sales Manager, selling dispatch consoles and mobile data systems for Electrocom Automation (later Electrocom Communications) and later became National Sales Manager for Coded Communications, selling turnkey, mobile data and GPS/AVL systems to public safety and utilities. His background also includes field service applications software and GPS/AVL sales for FieldCentrix and DataBurst Technologies.
The core management team for SONIK Messaging Systems brings a wealth of wireless experience to satisfy any customer requirements. We hope you will give us the opportunity to help you with yours.