Paging and Messaging Products:
PTX-150 Digital Paging Transmitter
WMBS, Wireless Messaging Base Station
PageLink Paging Data Receiver
Paging Terminals, Message Gateways & Controllers
LAN/WAN Paging Software
Pagers
Other Paging Equipment
PTX-150 All-digital Paging Transmitter
SONIK's PTX-150 narrowband capable (12.5KHz), TRUE digital, VHF paging transmitter is designed to meet the paging industry's latest standards for POCSAG, high speed FLEX, ReFLEX and simulcast operation and is designed to operate with a wide range of standard network interfaces. The PTX-150 offers the industries best specifications and features, including full Windows-based, remote diagnostics software, alarms and programming, advanced direct digital DSP design, complete no-tune coverage of the 138-174MHz frequency range, 16 synthesized channels, multi-protocol compatibility, on-the-fly, and a variety of power outputs to meet any requirement. It is ideal for both new systems as well as existing alphanumeric paging networks. The PTX can also handle any and all digital paging protocols used for load shedding in the electric utility market.
Click here for the data sheet on the PTX-150 All-Digital Paging Transmitter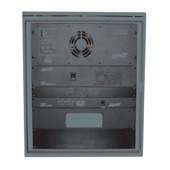 WMBS, Wireless Messaging Base Station

The WMBS (Wireless Messaging Base Station) is the next generation paging base station that will exceed companies' needs for mission-critical messaging applications. With user selectable options for voice and/or digital paging formats, it incorporates SONIK's proven design, integration, and manufacturing technology, together with acquired intellectual property, licensed from Motorola, to provide a reliable, high-performance paging system.

To meet specialized needs, the WMBS utilizes a modularized design for flexible configurations to support specific company network equipment requirements. A typical system can be configured to include a rack mount cabinet with a paging exciter or a PTX paging transmitter, a Remote Controller, GPS Receivers for simulcast timing and frequency reference, low-pass filters, and isolators. A hot-standby switch is an available option as well.

The WMBS operates with a wide range of standard network interfaces, and is ideal for both new systems as well as upgrading of existing paging networks. It supports OPP, I20, SYLC, and SuperStream protocols and can interface with C2000, C-Net, RF Conductor BATON, Zetron Model 66 or 620, and other controllers. Support for all modern digital paging formats on any frequency band, includes POCSAG, FLEX, GOLAY, and ERMES on VHF, UHF, or 900MHz frequency bands, with support for tone and voice paging optionally available as well. SONIK engineers have years of experience integrating the key components necessary for a reliable paging base station. Our engineers will carefully select the right components based on each customer's requirements, integrate, configure, optimize, and fully test each base station, prior to shipping.

All base stations are run through a vigorous Burn-In and Factory Acceptance Test (FAT), prior to shipping. SONIK will setup each base station in a system environment, using our own in-house paging terminal and network, to simulate operation in a system environment. This guarantees our customers that the unit will operate as expected, once it arrives at your location.

Click here for the data sheet on the WMBS
Click here for the data sheet on the RF Audience II
PageLink Paging Data Receiver
| | | | |
| --- | --- | --- | --- |
| LED Signage | Pagelink | Telemetry | Irrigation |
The SONIK PageLink Series paging data receivers are high-performance VHF, UHF, or 900MHz paging data receiver boards which are ideal for providing remote control/one-way telemetry capabilities, utilizing FLEX or POCSAG paging infrastructure. These units provide for multiple capcodes and group codes, as well as addressable output lines and a serial output and can operate on nationwide carriers, regional paging carriers systems, or on your own private paging system.

The product is available as an OEM board, with internal loop antenna, in a small form factor, or enclosed in a plastic housing, and/or with an external BNC antenna connector to enhance reception. The SONIK PageLink is one of the smallest form-factors available and can operate on FLEX or POCSAG protocols, on any available frequency band (VHF, UHF, 900MHz).

Typical applications include fire station alerting, load management control (LMC) for utilities, remote electronic signage like lottery signs by using the serial output, remote vehicle control, or remote control of any electrical device where accessibility and hard-wire is limited or unavailable.

Click her for the data sheet on the PageLink paging data receivers
Paging Terminals, Message Gateway's and Controllers
NEW MESSAGE GATEWAY
SONIK's New Message Gateway consists of two major components- the IT Router and the the ITPaging Server. SONIK can provide a full Message Gateway for complete new paging system solutions, or we can provide part of our Message Gateway to add encryption to existing paging systems. SONIK's AES 128-bit encryption is compatible with Unication encrypted pagers.
Typical Public Safety Paging System Diagram
The ITRouter Suite is a set of applications used for routing, managing and control of messaging through several different communications sources. The primary application is the ITRouter. The ITRouter is responsible for directing and controlling all messaging traffic.
ITRouter Features
•The ITRouter can accept traffic from the internet and serial based connections.
• Protocols include TNPP, TAPP, SNPP, WCTP, SMTP, SMS and voice.
• Traffic may be modified before output in many different ways including conversion of one protocol to another.
• Outbound traffic can be sent as TNPP, TAPP, SNPP, WCTP, Email, GACOMP2, SMS and voice.
• Traffic passed via the internet can be encrypted (UDP).
• Encryption can be added to legacy paging systems using ITRouter.
• Serial Pass Thru is also available to convert serial communications to IP.
• Traffic can be controlled in many ways including Source, Destination, Packet Types, Message Content and much more.
• Traffic can be sent to more than one destination.
• Traffic flow can be load managed and buffered if needed.
• Traffic flow can be controlled for possible spamming and IP attacks.
• Traffic can be generated for testing or system maintenance and updates.
• Traffic can be tested for latency or reception and resent if needed.
• Message content can be altered in many ways including encryption for supported paging devices (Unication).
• Redundancy for internet is dial backup to up to three additional carriers.
• Redundancy for ports include direct dial backup or re-direct to other ports.
• Events and ITRouter activities are constantly monitored for issues. Technicians can be notified in a variety of ways and specific notification events can be controlled. Alarms can be adjusted as needed.
• Extensive features for logging are available for all traffic activities. Logs are kept and automatically archived as needed.
• Logs can be queried by any content and exported as needed. •
Many additional features are available.
ITPaging Server Features
• The ITPaging Server adds telephony functionality to the ITRouter Suite.
• The ITPaging Server has an extensive feature list with the many benefits.
Adds telephony and subscriber capabilities to the ITRouter Suite.
• Inbound trunks are supported through the Asterisk Interface with SIP capabilities.
• A large range of telephony cards are supported, only limited by Asterisk support.
• Inbound calls with custom prompts and greetings.
• Voicemail storage for voice and data with text to speech capabilities.
• Voicemail forward to email supported.
• Voice directory support for grouping for subscriber directory.
• Caller ID and Caller Name support where available.
• Reminders, group paging, priority, forwarding and repeat services.
• Subscriber capacity limited only by HD space.
• API's available for billing interfaces.
System Requirements
• Dual Core Processor or Greater
• Microsoft Windows Compatible. Windows 7 Professional and Windows Server 2012r2 or Later
• 8Gb RAM
• 1TB Hard Drive
• Keyboard
• Mouse
Additional Requirements
• Sufficient serial ports for physical connections.
• Modems, internal or external for TAPP service requirements. Multiple lines supported.
• Internet service for external IP based connections and services.
Sample Encryption Server inserted in existing, legacy system
Contact SONIK for more information about our new Message Gateway!
Zetron Paging Terminals
SONIK is a reseller for a variety of paging terminals, including the full Zetron paging terminal product line. SONIK is the world-wide expert on Zetron paging terminals. We have sold, installed and integrated Zetron Model 640 paging terminals, as well as the entire 2000 series, including the Model 2100 and 2200.
SONIK engineers are well versed in setting up any of these high-capacity paging terminals for either voice and/or digital paging applications and have already implemented them in a variety of different applications, for police, fire, and EMS. Our experience includes interfacing these paging terminals to our customers LAN/WAN systems, for initiating pages from any PC on your network, to telco systems, to CAD (Computer Aided Dispatch), and to dispatch consoles, like Motorola's Gold Elite Dispatch Console or Harris Corp. C3 Maestro.
SONIK is the only company to have designed and installed a custom designed, dual, redundant, hot-standby, remote, paging terminal system configuration for a large County-wide system in Pennsylvania. The standard Zetron redundant product offering is designed for redundant, co-located gateways, however, SONIK engineers were able to design this customer driven configuration, to provide for remotely located, redundant, hot-standby, Paging Terminals. The biggest challenge was the integration of all inputs and outputs to these terminals and guaranteeing automatic system operation in the event the primary Gateway fails. SONIK engineers are up to the challenge, as this system was accepted in 2008 and is operational today.
Click here for additional information on available paging terminals for your application.
SONIK is also expert in system and transmitter controllers from Zetron. This includes the Model 66 and the all-digital, GPS-based Model 600 and 620 controllers. The Model 66 is used for voice or voice and digital paging systems and can also be used for existing systems using PURC tones to control the transmitters.
The Model 600 and 620 controllers cannot be used in voice paging systems and are specifically designed for all-digital, multi-site, simulcast systems. Timing is based on GPS receivers access to atomic time clocks, and is very precise. SONIK is intimately familiar with these products, with several installations in place.
Every system SONIK has installed, since 2005, has been a simulcast system, whether analog or digital.
Another unique challenge is to continue operating analog/voice paging, when County's are now installing IP-based microwave networks, along with their new P25 trunked systems. SONIK has a solution for this, which automatically adjusts the simulcast timing, when required. SONIK offers the best simulcast solutions for your requirements. And, we can also design and install a sequential-cast system solution, if desired.
Please contact us if you have any custom system design requirements not currently met with standard, off-the-shelf product offerings. We can help.
Click here for additional information on available controllers for your system application.
LAN/WAN Paging Software
SONIK offers a variety of application software packages to meet any customer requirement.
This component offered by SONIK, provides a client/server application that allows any PC on the County's LAN/WAN to initiate and send pages. A client application must be loaded on the users PC, so that he can send pages. The server is loaded with the cap code database and provides a TAP output to the paging terminal. The server runs on Windows NT4.0, 2000, XP, or 2003 Server. The Client module runs on Windows 95, 98, ME, NT4.0, 2000, XP, or 2003 Server.
The User application is concurrent user licensed, meaning you purchase a license for the expected number of concurrent users on the system, but there is no limit to the number of clients who have access to the system.
By using this client/server architecture, our customer can better control who has paging capability and access to the system. SONIK has installed and setup this product on previous systems sold with good results. Pricing is based on the number of concurrent client users. Please contact SONIK for pricing and additional information.
If the County desires true internet access to the paging network, then we recommend an optional Email/TNPP Gateway Server, as described below. This option should be carefully considered, as it may present some system security issues that your IT dept. will need to look at.
Click here for additional information on available application software to meet your requirements.
For system applications requiring internet connectivity, SONIK can recommend either the Model 2700 Message Gateway from Zetron, or a separate Email/Gateway Server.
Email/TNPP Gateway Server- (if internet connectivity required)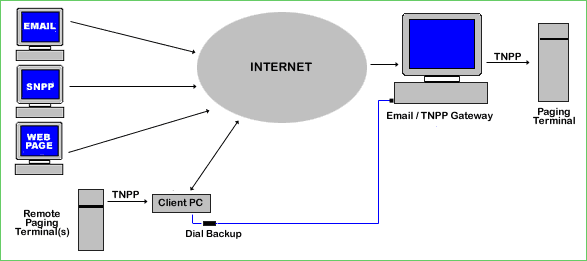 The Email/TNPP Gateway is a Windows-based Internet communications software application designed specifically to act as a 'Gateway' between your paging network and the Internet. The Gateway connects to your paging terminal (or paging network) via a standard TNPP serial port (TAP version also available). The connection to the Internet is typically DSL, cable modem, or dialup modem, connected to an Internet service provider. The Email/TNPP Gateway supports the following applications:
Email support: The system functions as an Internet email server that converts incoming email messages to TNPP ID pages. The TNPP packets are then transmitted to the paging terminal or TNPP network on the serial port. By allowing an email interface to your paging system, you dramatically increase the value and functionality of an alpha-numeric pager. Anyone in the world with access to the Internet can page your subscribers by simply sending an email message. The Gateway can also forward email messages to the subscriber's true 'home' email address, ensuring that the subscriber has a "hard-copy" of the message for later review.

Web Page support: The Gateway can accept page requests from an Internet Web page. We give you a simple web page (.HTM file) which you can then modify by adding graphics or any other text that you wish. Web page input allows anyone with a web browser to access your 'paging' web page and send a message to your subscribers. Simply enter the pager number and the message, and click "Send". NOTE: There is a Windows version and a Linux version of the web page interface.

SNPP support: (Simple Network Paging Protocol) SNPP provides a simple, direct way to send a page over the Internet. SNPP is similiar to TAP/IXO, but uses the Internet instead of a dialup modem. The sender starts up his SNPP Client (available free from Comm One), clicks on a name, types the message, and hits SEND. The SNPP Client connects directly to the Gateway, sends the message, and disconnects. The Gateway then forwards the message to your terminal via TNPP ID page. Because the SNPP Client connects to and communicates directly with the Gateway, the user is assured of message delivery. We can also customize your SNPP Client program so it shows your company name and only connects to your Gateway.

TNPP over the Internet: The Gateway supports connections from remote paging terminals via our Windows TNPP Internet 'Client' software. This allows you to link your remote terminals over the Internet, bypassing expensive leased lines. The TNPP Internet Client software converts serial TNPP data to Internet packets and vice-versa. Clients can exchange paging traffic with the main terminal (Gateway) or with other Clients connected to the same Gateway. If your Internet connection fails, the Client software can use a modem and a POTS line to dial straight into the Gateway, quickly restoring the connection. Once the Client re-connects to the Gateway over the Internet, the dialup connection is automatically dropped.
Email Features:
TNPP-over-Internet Features:
TNPP over Internet: allows you to network your paging terminals and transmitters over the Internet, avoiding expensive leased lines. One Gateway can support up to 60 remote connections.
Dial backup: assures that a lost Internet connection won't halt your paging operation.
TNPP Routing: The Gateway functions as an Internet 'TNPP router', routing packets to the correct terminal/node by destination address.
Secondary Gateway: For the ultimate in redundancy, a secondary backup Gateway can be installed. Each remote Client can be configured to connect to the secondary if the primary Gateway is unreachable.
Destination/Source validation: only accept TNPP traffic with valid destination and source addresses.
TNPP Batching: Batching allows multiple single-page packets to be assembled into one long multi-page packet to increase efficiency.
Tech Page: will page you if a remote terminal loses its connection to the Gateway.
Gateway-to-Gateway communications: Gateways can communicate with each other, allowing you to network multiple Gateways and Clients.
SNPP Features:
SNPP: fast, direct, and reliable message entry over the Internet
SNPP Greeting: send a custom greeting back to the SNPP Client when it connects to send a message
Customized SNPP: We can provide you with a customized version of the SNPP Client that will have your company name and icon.
Name lists: The user can store a personal list of names and pager IDs, allowing him to simply click on a name and send a message.
Max character length: Configurable maximum character length for SNPP messages
SNPP-to-Email: SNPP messages can be converted to email and forwarded to the subscriber's home email address.
General Features:
AutoPage: send a page every 'X' minutes (configurable) to verify that the system is up and running
Test Page: lets you easily send a test page to the local terminal or any connected terminal over the Internet
Configurable TNPP port: TNPP port (to the paging terminal) is fully configurable as to data rate, crc type, data direction, etc.
Configurable TCP/IP port numbers: TCP/IP port numbers used are fully configurable (email=25, SNPP=444, ...)
Requirements:
Windows XP, Windows NT, or Windows 2000 operating system

CD-ROM drive for software installation

Dedicated Internet connection from an Internet service provider

Static IP address

Internet Domain name for receiving email (i.e. "yourcompany.com")

Available RS-232 serial port (for paging terminal connection)

TNPP ID page support on your terminal (for email, snpp, and web paging) or TAP support
Pagers
When considering a new paging system, one of the most important considerations is the pager itself and whether you want voice or digital paging. While many paging users are familiar with voice paging, they are often unaware of the throughput limitations that voice paging can impose on a large system. Voice paging users have come to realize that when a voice paging system is heavily loaded, like in a County-wide emergency or disaster, such as a flood, tornado, hurricane, or earthquake, a voice paging system can get backed up very quickly.
To understand this, you only need to understand simple math. If a voice page typically takes 15 seconds of system airtime to transmit (the time it typically takes you to speak the message), and an area wide disaster occurs, with 200 people trying to send a voice page all at the same time, simple math tells us that 200 voice messages times 15 seconds each, equals a total airtime of 3,000 seconds to transmit all pages.

3,000 seconds is 50 minutes, and we believe this is way too long for your important voice page to reach the Fire Chief, as an example, who is on the scene of a major disaster or for a doctor who is needed in the hospital for emergency surgery. It is for this reason, that SONIK recommends migrating to an all-digital paging system for most customers who need their paging system for urgent, emergency messaging, in addition to normal day to day usage.
A digital paging system can send the same 200 pages, digitally, in a fraction of the time, typically in less than 1 minute.
Digital pagers are also much lower priced. A Minitor V voice pager, as an example, typically sells for more than $400 each, while most digital, alphanumeric pagers typically sell for less than $100. A large system with several thousand pagers, can easily save several hundred thousand dollars by implementing a digital vs. analog paging system.
SONIK offers a wide variety of pagers to meet any customer requirements. We are a reseller of the full Daviscomms line, including the Bravo 802 Alphanumeric Pager and the Bravo 502 Numeric Top Mount Pager.
If you require voice pagers, like the Motorola Minitor V, we can provide those for you, but we hope you will also consider our offerings from Unication, Swissphone and Apollo, which offer similar capabilities with significant cost savings. Please contact us to discuss the best pager for your requirements.
Click here for additional information on available pagers to meet your requirements.
Many customers are unaware of the myriad of paging related products that are available to maximize your investment in a paging system. Relative to other wireless data products, paging is very inexpensive.
If you are interested in additional cost-effective products that take advantage of inexpensive paging as a wireless messaging tool, please contact us. Here are a few examples:
LED signs that are updated by remote, wireless paging data receivers
Mobile data receivers, mounted in your vehicle that receive pages and display them on a larger display in your vehicle
Fire station alerting through your paging system can activate the station alarm, open the fire doors, turn on the lights, and print out the E911 message all from a single wireless page on your paging system
Remotely turn on machines, via a paging data receiver (ie.- Load Mgmt. Control or LMC for utilities, M2M, etc.)
Remotely turn off the ignition on a stolen vehicle, via a paging data receiver
Click here for additional information on optional hardware and software products.